Going Solar with Solar Training Program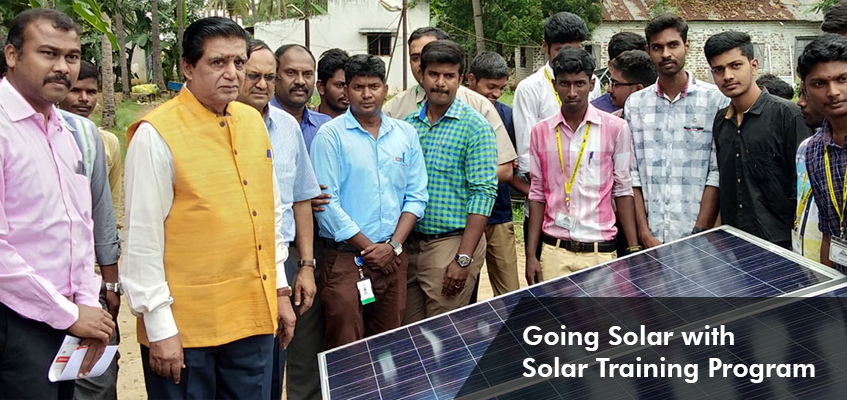 Over the past few decades, solar energy, as a renewable source of energy, has gained immense attention and continues to keep versatile scientists and subject matter experts, on their toes. This is a global phenomenon where researchers continue to find out, how sun's phenomenal power, can be used to better human life.
Prominent organizations, all over the world, have now started come close to find out, how best solar energy can be utilized, as a cost effective alternative to electric power or thermal power. Prominently seen these days are solar power panels which energise water heaters and lamps. This is not all. Solar power has also successfully made its presence felt in the automobile as well as food industries.
India is by no means a stranger, to these developments unfolding in the solar energy sector. Technology combined with creativity, sees a large number of India's youth, getting into opportunities which can give them new hopes and new dimensions. Adding substance and value to these creative ideas is Sonayukti - A part of the prestigious Sona Valliappa group, which has shaped many a diverse career's and now looks to lend adequate support to aspiring individuals, who would like to experience the power of the sun, at its finest. Solar PV or Solar Photovoltaic is the device that converts sunlight into direct electricity. The Solar PV Training program from Sonayukti, educates students on how Photovoltaic effect, drives the Solar PV cells, to attract light and generate electricity. Such has been the developments around solar energy that now every independent establishment, install their own Solar PV infrastructure, on their rooftops and reap the benefits of solar power.
Sonayukti, has empowered many young minds and directed them to begin as productive technicians, leading to them graduating into small time entrepreneurs. The free Solar Training Program, under the Suryamitra Skill and development program and sponsored by National Institute of Solar energy, is one more contribution from Sonayukti. The free Solar Training Program in Salem focussed on Solar PV Training, which served as an eye opener for the rural students and instilled hope and an opportunity to exhibit their talent. Installation, maintenance and testing are the three core areas which the Solar PV training program, introduces the students to.
In addition to this, the Solar PV Training course from Sonayukti also focusses on Site assessment and planning, introduction to safety equipment to be used, Introduction to Solar basics and a basic knowhow of economics, involved.
Guidance and Teaching, is showcasing that, there is every scope and opportunity for the right talent which has been impeccably presented by Sonayukti.