Vision
To be the world's leading power company, energizing India's growth.
Mission
Provide reliable power and related solutions in an economical, efficient and environment friendly manner, driven by innovation and agility.

NTPC is India's largest energy conglomerate with roots planted way back in 1975 to accelerate power development in India. Since then it has established itself as the dominant power major with presence in the entire value chain of the power generation business. From fossil fuels it has forayed into generating electricity via hydro, nuclear and renewable energy sources. This foray will play a major role in lowering its carbon footprint by reducing greenhouse gas emissions. To strengthen its core business, the corporation has diversified into the fields of consultancy, power trading, training of power professionals, rural electrification, ash utilisation and coal mining as well.
NTPC became a Maharatna company in May 2010. As of January 2020, there are 10 Maharatnas CPSEs in India. NTPC is ranked No. 2 Independent Power Producer (IPP) in Platts Top 250 Global Energy Company rankings.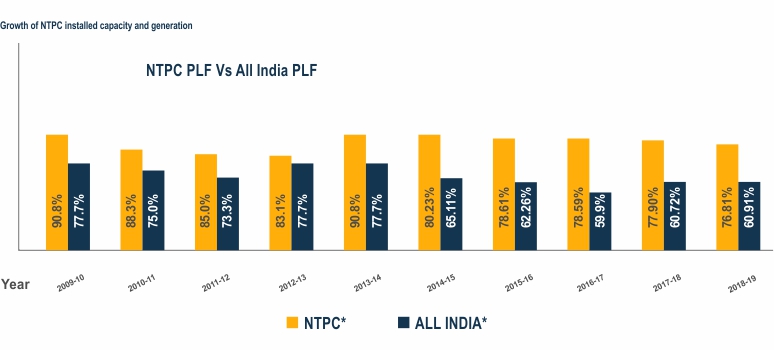 The total installed capacity of the company is 62,910 MW (including JVs) own stations include 24 coal based, 7 gas based, 1 Hydro 1 Wind 11 Solar and 1 Small hydro plant. Under JV, NTPC has 9 coal based, 4 gas based and 12 renewable energy projects. The capacity will have a diversified fuel mix and by 2032, non-fossil fuel based generation capacity shall make up nearly 30% of NTPC's portfolio.
NTPC has been operating its plants at high efficiency levels. As on 31.03.2019 the company had 15.5% of the total national capacity and, it contributes 22.3% of total power generation due to its focus on high efficiency.
In October 2004, NTPC launched its Initial Public Offering (IPO) consisting of 5.25% as fresh issue and 5.25% as offer for sale by the Government of India. NTPC thus became a listed company in November 2004 with the Government holding 89.5% of the equity share capital. In February 2010, the Shareholding of Government of India was reduced from 89.5% to 84.5% through a further public offer. Government of India has further divested 9.5% shares through OFS route in February 2013. With this, GOI's holding in NTPC has reduced from 84.5% to 75%. The rest is held by Institutional Investors, banks and Public. Presently, Government of India is holding in NTPC has reduced to 54.14%.
NTPC is not only the foremost power generator; it is also among the great places to work. The company is guided by the "People before Plant Load Factor" mantra which is the template for all its human resource related policies. In 2019, NTPC is recognized as "Laureate" for consistently ranking among "Top 50 Best Companies to Work for in India" for last 11 years in the Great Place to Work and Economic Times survey. Besides, NTPC was also recognized as the best among PSUs and in Manufacturing.
Sona Yukti Candidates 'Under Training/Trained' in NTPC
State
Centre Name
Total No. of Candidates Under Training/Trained
Uttar Pradesh
Bareilly
600
Jharkhand
Ranchi
300
Madhya Pradesh
Jabalpur
300
Total
1200
Challenges faced by NTPC and how well are they equipped to tackle glitches in the future?
NTPC has always converted challenges into opportunities. This is a proven strength of NTPC. There are no threats to the Company. The Company is operating in a sector which is poised for major growth.
However, the Company is geared up to secure its market leadership and to further strengthen its position as a premier power utility in the country with strategies and execution plans in line with the emerging power market dynamics.
NTPC has made strategic entry into coal mining with a view to ensuring fuel security and deriving economy and stability of pricing. And its coal mining activities are going ahead full throttle. NTPC is also exploring opportunities to acquire coal mines abroad and is looking for partners with proven expertise to acquire and develop coal mines.
Similarly, for meeting long term requirement of gas supply for its gas based power stations, NTPC is exploring options for participation in the gas value chain, including opportunities abroad.
Besides diversifying into backward integration areas of coal and gas, NTPC is developing substantial hydro power by way of lateral diversification. We also plan to develop at least 1,000 MW of capacity based on new renewables by 2017.
By way of forward integration, NTPC has formed a trading subsidiary 'NTPC Vidyut Vyapar Nigam Limited' (NVVN) and NVVN has made substantial progress in the business. NTPC is also setting up Merchant Power Plants to sell power in the de-regulated segment of the power market.
NTPC places strong emphasis on its human resources, its key competitive strength. In order to attract and retain talent, NTPC realigns its package of benefits and developmental initiatives. It is taking steps to manage the aspirations of its employees through innovative HR practices.
What are NTPC's future plans?
NTPC envisions to be a world-class integrated power major, powering India's growth with increasing global presence. At present, they have an installed a capacity of 27,904 MW, including 1054 MW from JVs. We plan to be a 50,000 MW Company by 2012 and 75,000 MW Company by 2017. The company has an ambitious capacity addition programme of over 22,000 MW during 11th Plan. Currently 13,360 MW is under construction and for the remaining 9,000 MW orders are going to be placed by the end of the year.
NTPC has a well-conceived Corporate Plan covering the period 2002-2017. The Plan lays down the broad contours for the Company's future growth and diversification. By the year 2017, the profile of NTPC will include the following features:
Indian MNC with presence in many countries
Diversified utility with multiple businesses
Setting benchmarks in project construction and availability and efficiency
Having a strong research and technology base
Loyal customer base in both bulk and retail supply
Preferred employer
Leading corporate citizen with a keen focus on executing its social responsibility